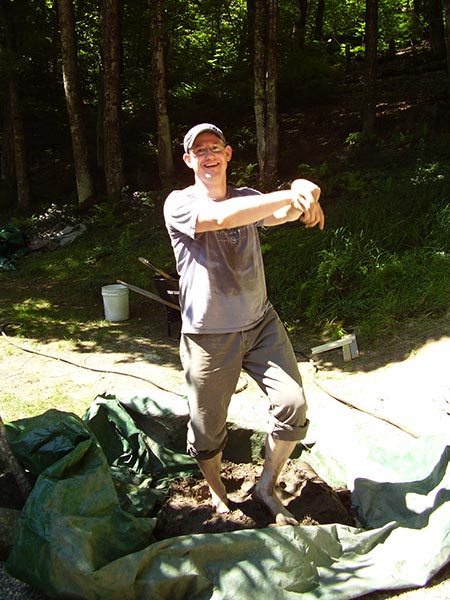 "Cob oven, gangnam style"!
My guilty pleasure is watching hilarious Psy 'gangnam style' parodies on Youtube. I love them,

and we have a lot of our favs,

so Adam did his own version just for me!
Mixing up batches of cob involves a lot of stomping in bare feet. Adam decided the funny gangnam dance was in order.
WE ARE BUILDING AN AUTHENTIC PERIOD-STYLE COB 'BEEHIVE' BAKE OVEN IN OUR BACK GARDEN.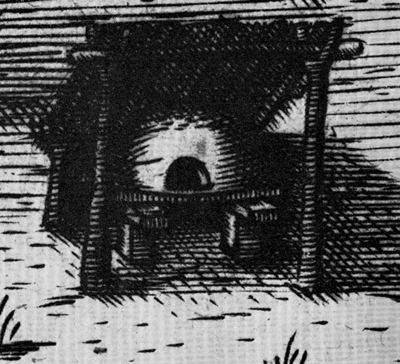 We're working on a roofed lean-to like the one above. Below you can see ours in progress~
*(See all the photos and details of our cob bake oven ONLY on our website gallery)
WE BUILT OUR OVEN WITH NO MONEY, USING THINGS FROM OUR OWN PROPERTY, THINGS WE HAD OR HAD SALVAGED MONTHS OR YEARS BEFORE, AND CLAY THAT WE DUG UP ON OUR PROPERTY .
This project is not quick or easy, as some would have you believe. It takes a lot of commitment, research, and very hard work. Finding proper clay is not simple. Clay must be dug up---(you can't buy it---repeat---you cannot buy it. You must dig your clay)---it should be of good and right quality, and be prepared to use as much as 15 five-gallon bucket loads, as well as a few hundred of pounds of the proper sand, some sawdust, hay, etc. (We had to dig in a couple swampy patches we have found hidden on a hilltop in dense woods behind our house along the little stream to get the clay, and carry each over-50 pound bucket through woods and down the hill, after picking out all rocks and debris of course.)
Adam got empty glass beer bottles from people at work and at the local dump, as they were needed for an insulation layer in the base.
Like all of the many, many very difficult and dirty jobs we've done over the years restoring our 18thc. house, we found this challenging, fun---and because we are doing it together and not going to the store and spending a ton of money for materials or a pricey ready-made bake oven---very rewarding~
THIS IS NOT THE KIND OF OVEN WE WANTED...
You can go online and spend almost two thousand dollars---yes, two thousand dollars to buy this, uh, well, UGLY (and NOT period-correct) thing---(ugh!)
We decided to build our own period-correct (17thc. style) cob bake oven in our back garden, similar to one at Plimoth Plantation~
We would never spend money on something like the photo above---
This project is not about money; it's about keeping the 'old ways' alive by making something with your own 2 hands, and investing hours and days or weeks in something worthwhile to enjoy and to remember, and to recreate a little bit of the past of our ancestors.
The biggest allure of the project is not only anticipation of wonderful homemade food we'll make in it, but the fact that we are doing every bit of it ourselves, and with materials we already had, had salvaged, or dug up ourselves,---Just like the first-comers at Plimoth.
We did a lot of research before we started our project, reading books and watching videos.
We have used our own resources, as well as all of our own best efforts. In the book we used as one of our instructional guides for constructing an oven as they did hundreds of years ago, the author says in part~
"...where we find relationship, we will also find beauty. But we have to start where we are. That's why I suggest you make-do~not only because it's better than buying, but also because you learn more by thinking about where to dig and how to scrounge..."
Our oven has an arched brick opening and foot--- (We used old bricks I garbage-picked years ago), and we crafted the door from scraps of 250 year old boards with lovely ancient patina, that we already had in our attic stash, and used a bent branch from the woods for the rustic handle!
We're pretty proud of what we have done, especially since we had never done anything like this before.
It was great to learn new skills but most of all it was like taking a trip back in time to recreate something our pilgrim ancestors made.
We are having a lot of fun doing this together and making memories...
We've had a blast building our oven~
Above, it's in progress~
...So without further ado, we'd like to share this adventure with you and invite you to visit our
~With many photos along with descriptions, we take you on our adventure as we design and build this period-correct bake oven in our back garden, and without spending more than a few dollars.
We hope you will enjoy it.
*( Our galleries are up for a limited time. They change periodically to reflect our 17th/18thc. life and adventures).
We will be adding more pictures to our gallery weekly, and will have a 'big reveal' on our website later this summer~
We built our oven using the same materials and methods they used 300 years ago.
Here we're ready for the next step---removing the sand from inside and exposing a perfectly formed bake oven!



Above, the oven project in progress.


Come visit our

gallery

and share the whole adventure---


(THE GALLERY IS THE ONLY PLACE YOU'LL SEE OUR PHOTOS AND THE UPCOMING 'BIG REVEAL'.)