Above you can see the oven door we crafted with 250 year old boards and a branch from the woods.
THE BACK YARD 'PILGRIM BAKE OVEN PROJECT'
(Coming along really well~In the photo above, the lean-to with roof is in progress.)
THE BACK YARD 'PILGRIM BAKE OVEN PROJECT'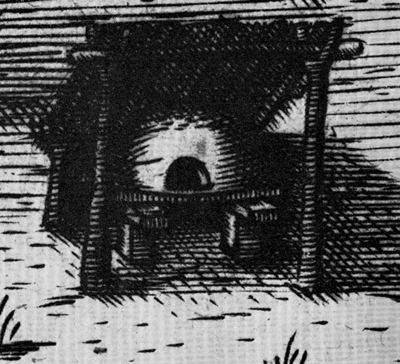 WE HAVE BUILT AN AUTHENTIC PERIOD-STYLE COB 'BEEHIVE' BAKE OVEN IN OUR BACK GARDEN. THE TWO OF US BUILT OUR OVEN WITH NO MONEY, USING THINGS FROM OUR OWN PROPERTY, THINGS WE HAD OR HAD SALVAGED MONTHS OR YEARS BEFORE, AND CLAY THAT WE DUG UP ON OUR PROPERTY
We decided to build our own period-correct (17thc. style) cob bake oven in our back garden, similar to one at Plimoth Plantation~
This project was not about money; it was about keeping the 'old ways' alive by making something with your own 2 hands, and investing hours and days or weeks in something worthwhile to enjoy and to remember, and to recreate a little bit of the past of our ancestors.
The biggest allure of the project is not only anticipation of wonderful homemade food we'll make in it, but the fact that we did every bit of it ourselves, and with materials we already had, had salvaged, or dug up ourselves,---Just like the first-comers at Plimoth.
We have used our own resources, as well as all of our own best efforts.
We're pretty proud of what we have done, especially since we had never done anything like this before.
It was great to learn new skills but most of all it was like taking a trip back in time to recreate something our pilgrim ancestors made.
Here you see our first 'curing' fire in the oven. We still have finishing touches.
THE 'BIG REVEAL' OF THE FINISHED BAKE OVEN WILL BE IN PHOTOS ONLY POSTED ON OUR

WEBSITE

AT THE END OF AUGUST.
We've had a blast building our oven~
WE APPRECIATE HEARING FROM THOSE OF YOU WHO VISIT OUR WEBSITE.
SO MANY PEOPLE DON'T TAKE THE TIME OR TROUBLE TO EMAIL COMPLIMENTS, BUT TO ALL WHO LOVED VISITING OUR STEP-BY-STEP PHOTO GALLERY OF OUR ADVENTURE, WHO WERE GOB-SMACKED BY OUR EFFORTS AND OUR OVEN, AND WHO TOOK THE TIME TO TELL US SO...
~THANK YOU SO MUCH FOR YOUR KIND WORDS~WE APPRECIATE YOUR COMMENTS SO VERY MUCH.
The step-by-step photos from our
have been taken down now, but the 'BIG REVEAL' is still to come at the end of this month (August)!
***( Our galleries are up for a limited time. They change periodically to reflect our 17th/18thc. life and adventures).
We built our oven using the same materials and methods they used 300 years ago.
These photos show our oven almost-but-not-quite completed.
See the 'big reveal' of our oven completely finished only on our

website

at the end of August.